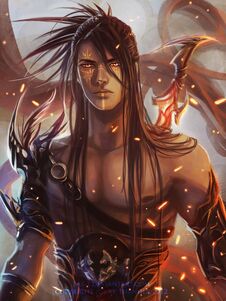 Sparta is a character in the Elementalist's Prophecy
Appearance
Edit
Sparta has dark skin, dark brown hair with purple purple highlights and golden eyes.
Personality
Edit
Sparta is Luka's cousin and the lord of Orisya. He is smart, intelligent and raised like a warrior. He doesn't like playing mind games and would do anything for his people. Sparta also has a fast regenerative organizam so he heals fast and can't get drunk which is great for him because he likes to drink quite a lot of wine.
Sparta

| FULL NAME | Lord Sparta Pheles  |
| --- | --- |
| AGE | 25, later 27 |
| FAMILY | Ladies Serenity and Shea (younger sisters) |
| SPECIES | Phoenix |
| GENDER | Male |
| NATIONALITY/COUNTRY | Orisya |
| EYE COLOUR | Golden |
| HAIR COLOUR | Dark brown, long and straight |
| HEIGHT | 5'11 |
| OCCUPATION | Lord of Orisya |
Ad blocker interference detected!
Wikia is a free-to-use site that makes money from advertising. We have a modified experience for viewers using ad blockers

Wikia is not accessible if you've made further modifications. Remove the custom ad blocker rule(s) and the page will load as expected.