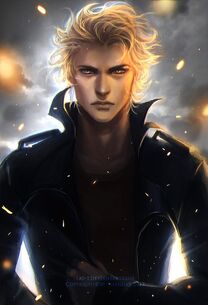 Sage is the former Elementalist of fire who was presumed deceased as well as Captain Sebastian's older brother. 
Appearance
Edit
Sage has golden shoulder lenght hair and gorgeous brown eyes. He is quite muscular and tall.
Personality
Edit
Sage is a mysterious warrior that protects the four elementalists from the shadows. Unknown to the others he is the former elementalist of fire who was presumed deceased, but somehow managed to keep a part of his powers.
Sage
FULL NAME
Nott Sage Sebastian
AGE
30
FAMILY
Halleway Sebastian (younger brother)
SPECIES

Former Elementalist of Fire

Fire Holder

GENDER
Male
NATIONALITY/COUNTRY
Eastword
EYE COLOUR
Brown
HAIR COLOUR
Golden
HEIGHT
6'4
OCCUPATION
None
Ad blocker interference detected!
Wikia is a free-to-use site that makes money from advertising. We have a modified experience for viewers using ad blockers

Wikia is not accessible if you've made further modifications. Remove the custom ad blocker rule(s) and the page will load as expected.