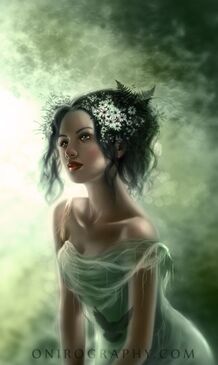 Naya is one of the major characters in the Elementalist's Prophecy. She is the Elementalist of Earth.
Appearance
Edit
Naya has brown skin, short black hair and amber eyes. 
Personality
Edit
Naya is intelligent and has a bubbly personality. She is a romantic person who jokes easily and has a dislike for violence, prefering to end a conflict with words. However, if the situation requires it (when her friends are in danger) she has no problem using her powers to defeat and subdue her enemies.
Naya
FULL NAME
Naya Lila Azaria
AGE
17, later 19
FAMILY
Parla Azaria (mother)
SPECIES
Elementalist of Earth
GENDER
Female
NATIONALITY/COUNTRY

Heliroa

Eastword

EYE COLOUR
Amber
HAIR COLOUR
Black
HEIGHT
5'4
OCCUPATION
Member of the Therrarian Council
Ad blocker interference detected!
Wikia is a free-to-use site that makes money from advertising. We have a modified experience for viewers using ad blockers

Wikia is not accessible if you've made further modifications. Remove the custom ad blocker rule(s) and the page will load as expected.