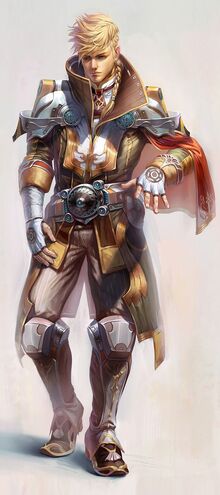 Hale,full name Halleway Sebastian is brother of Nott and the youngest captain in the Eastword army.
Appearance
Edit
Hale is twenty-six old and has golden hair and green eyes. He is very tall and is always seen in his armour.
Personality
Edit
Hale is quite competative, likes to win and is a sore loser. Nevertheless he respects others and and is kind to children and to homeless. He never leaves a man behind. After Night Battle, Hale is helping Naya with her new position to the Therrarian Council.
Hale
FULL NAME
Halleway Sebastian
AGE
26
FAMILY
Nott Sebastian  (older brother)
SPECIES
Human
GENDER
Male
NATIONALITY/COUNTRY
Eastword
EYE COLOUR
Green
HAIR COLOUR
Blond
HEIGHT
6'4
OCCUPATION

Captain of the Joined forces

Captain of the city guard of Etein
Ad blocker interference detected!
Wikia is a free-to-use site that makes money from advertising. We have a modified experience for viewers using ad blockers

Wikia is not accessible if you've made further modifications. Remove the custom ad blocker rule(s) and the page will load as expected.