Felicity Caldrick is one of the major characters in The Elementalist's Prophecy. She is the Elementalist of Fire.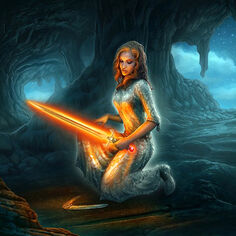 Appearance
Edit
Felicity hair is long and blond and curly, while her eyes are violet. She is tall and has an athletic build. She has tanned skin and freckles which she hides with a bit of powder.
Personality
Edit
Since she was born in a rich family, she herself is a kind and a gentle person, but has quite a temper. Felicity is quite insecure and at times stubborn and scared which she hides with flirting and acting casual.
Felicity
FULL NAME
Felicity  Caldrick
AGE
19, later 21
FAMILY

Faye Caldrick (grandmother)

Iwan Caldrick (father)

Daphnea Caldrick (older sister)

Aryan Caldrick (older brother)

Eyla Caldrick (younger sister)

SPECIES
Elementalist of Fire
GENDER
Female
NATIONALITY/COUNTRY
Westword
EYE COLOUR
Violet
HAIR COLOUR
Golden blond, curly
HEIGHT
5'9
OCCUPATION
Dancer
Ad blocker interference detected!
Wikia is a free-to-use site that makes money from advertising. We have a modified experience for viewers using ad blockers

Wikia is not accessible if you've made further modifications. Remove the custom ad blocker rule(s) and the page will load as expected.